Start-Up Makeup Kit for Beginners

Published By Pratishtha Kaushik
March 15th, 2017
#makeup #beauty #cosmetics #kajal #foundation #powder #concealer #lipstick
If you start panicking and find yourself overwhelmed rather than filled with glee and childlike excitement, it's safe to say you're probably new to makeup – hey, that's totally fine! I know makeup can be confusing and intimidating, but believe me when I say it doesn't have to be. Whether you're a beginner to makeup or have been experimenting with it for quite some time, it is really nerve wracking to have a collection of makeup products that help you to create a go-to everyday makeup look. But don't you worry girl, we've got you covered with this start-up makeup kit for beginners. It's got all the bare essentials you need to jump into the makeup world without any headaches.
1. Foundation
The first step in any makeup routine is to use foundation. After you've cleansed and moisturised your skin (p.s. this step is a must in all routines), you need to even out your skin tone and make it look radiant and the following foundations to a great job:-
Maybelline New York FitMe Matte+Poreless Foundation (Rs.525/-)
This one's a keeper girls, I mean it! The Maybelline New York FitMe Matte+Poreless Foundation does wonders on your skin as it goes beyond skin tone matching to fit the unique texture issues of normal to oily skin for the ultimate natural skin fit. We all know most foundations can exaggerate pores and oily skin, however this product contains genius blurring micro-powders that erase pores and absorbs oil for a naturally matte and poreless-looking finish. This dermatologist and allergy tested foundation does not clog pores and gives your skin the ultimate oil-free and mattifying naturaltone.
Lakme 9 to 5 Flawless Matte Complexion Foundation (Rs.575/-)
This next product works like magic girls. TheLakme 9 to 5 Flawless Matte Complexion Foundation is the perfect foundation for a diva who likes to look like perfection all day long. This foundation is boosted with a mattifying formula and gives your skin a translucent and radiant glow. It has active properties that blend into the skin beautifully to give you a natural appearance without looking overly made up. The product is super easy to use as it comes with a pump, which is convenient for travel too. This is one high performance foundation that suits all skin tones, does not require touch-ups and lets you look flawless throughout the day.
L'oreal Paris Mat Magique 12H Bright Mat Foundation (Rs.595/-)
The first ever 12hr Matte skin perfecter, the L'oreal Paris Mat Magique 12H Bright Mat Foundation brightens your skin for matte that's never flat. This foundation is totally shine-free and the fresh liquid formula gives your skin a new sleek bright matte finish. The 12hr lasting formula absorbs oil progressively by regulating sebum secretion during the day and the mineral micro sponges diffuse their matte powder giving you a smooth and radiant look. Available for all types of skin tones, this foundation is a blessing for oily skinned beauties. It does not cake all through the day and is perfect for daily wear.
2. Concealer
The next step after using foundation is to conceal. A concealer is a real life saver when you want to hide those nasty scars or blemishes on your face. The following concealers will make your life so much easier:-
Maybelline New York FitMe Concealer (Rs.500/-)
This is one makeup product that doesn't mess with you. No oils, no powders, no nonsense. The Maybelline New York FitMe Concealer gives you a natural coverage while concealing blemishes and dark spot, leaving your skin the way it was supposed to be. This product gives you a fresh and radiant glow while allowing your skin's natural highs and lows to show through. The Non-Comedogenic (acne/blemish causing) formula, which is dermatologist and ophthalmologist tested, is a perfect fit for all skin types and is a great investment when it comes to concealers.
L.A. Girl Pro Conceal HD (Rs.535/-)
This little guy works big when we talk of concealers. The L.A. Girl Pro Conceal HD has a crease-resistant, opaque coverage with a creamy yet lightweight texture. The long wearing formula camouflages darkness under the eyes, redness and skin imperfections. This product evens your skin tone, giving you a clean and fresh look. The blendable and buildable formula provides the ultimate complete and natural-looking coverage. It comes with a soft brush tip which makes it easier to apply. It is suitable for all skin types and is the best multitasking concealer you can have and is perfect for contouring and highlighting.
3. Powder/Compact
The third step is to set the foundation and concealer with a powder so it doesn't budge. The powder helps mattify the skin and also prevents oil and creases. These powders help in doing a great job:-
Maybelline New York White Super Fresh Compact (Rs.150/-)
The Maybelline New York White Super Fresh Compactcontains natural minerals that lighten the skin complexion, absorb sweat and oil, and keep the skin fresh for 12hrs. Its gives your skin a radiant and mattifying look and is great for Indian skin tones. The affordable price, superior puff and packaging, and a nice light fragrance to it make it great for everyday use. It is recommended to everyone who is new to the makeup world and wishes to spend little amount of money and get great benefits.
Maybelline Clear Glow All-in-One Fairness Pressed Powder (Rs.275/-)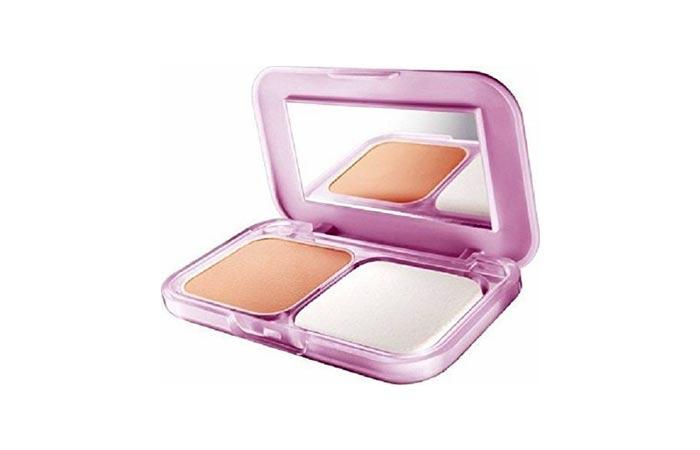 Girls, this product has full of goodness filled in it. The Maybelline Clear Glow All-in-On Fairness Pressed Powder is infused with Pro Vitamin C, SPF26 and PA++. The Pro Vitamin C instantly illuminates and brightens your skin giving you a natural glow. The SPF26b and PA++ deliver enhanced sun protection. The ultra-lightweight powder blends easily into your skin and instantly conceals flaws while also providing a smooth matte finished look. It is oil-free, dermatologically tested and doesn't clog pores. This product is sebum resistant and is suitable for all skin types.
4. Blush
The next step is to put a little colour back onto your face. By using the foundation, the concealer and the powder your face looks a bit colourless and so a blush works wonders here. The following blushes are great for anyone who is a beginner at makeup:-
Maybelline Color Show Blush (Rs.299/-)
This one right here is the new stellar blush in town, girls. The Maybelline Color Show Blush is ultra-smooth and can be easily blended for a natural hue. Available in three different shades, it suits all skin tones and just a single application of the product gives you a fresh look in seconds. With a non-chalky texture and high pigmentation, it makes the application process easy and provides a long lasting tint.
Makeup Revolution Iconic Pro Blush, Bronze and Brighten Kit (Rs.850/-)
This Iconic Pro kit is everything you need to enter the makeup world. With a blush that brightens, a bronzer that sculpts and contours and a highlighter that gives your skin a beautiful glow, this product is a great investment for everyday use. It is a much pigmented product and stays put for a long period of time, so you won't need a lot while applying.
5. Eyebrow Pencil
The next step in our makeup routine is going to be shaping our eyebrows. Most people neglect this step; however, defining your brows makes a world of a difference and only one product is greatly effective for this purpose for beginners:-
Maybelline Fashion Brow Duo Shaper (Rs.300/-)
This product does wonders for your brows, girls. Get naturally-defined, Fuller eyebrows without threading trimming or plucking your eyebrows. This 2-in-1 Brow liner comes with a pencil tip to shape your brows and a powder tip for a soft finish. The Maybelline Fashion Brow Duo Shaper lasts all day long without smudging giving your eyebrows a sculpted and defined look.
6. Eyeshadow
Eye shadow, my ladies, will turn your life around. It's amazing what a little colour to your eyes can do. It completely changes your look by making your eyes seem livelier. I recommend the following two products for our sweet beginners:-
Maybelline New York The Blushed Nudes Palette (Rs.899/-)
This product, girls, is simply awesome. It is super pigmented and blends together amazingly. The palette enables you to choose from matte and shimmery shades so that you can create multiple looks as all of them compliment the Indian skin tone. It stays on for a long time and can also be used as an everyday product. These blushed nude tones are highly blendable with an amazing texture that is universally flattering and looks natural on all skin types. The packaging is super cute and convenient and also comes with an applicator which makes it easy to use.
L.A. Girl Beauty Brick Eyeshadow Collection-Nudes (Rs.950/-)
This is a gorgeous must have eyeshadow palette filled with a dozen majorly pigmented shades. L.A. Girl Beauty Brick Eyeshadow gives you the best of all colours to allow you to create stunning looks. The palette includes shimmer and matte shades making the palette to go from an everyday look to a night out look. It comes with a double ended brush and a mirror inside which makes it convenient to use. It is suitable for all skin types and lasts all throughout the day.
7. Kajal
Even the makeup virgins might be familiar with this product. Yes girls, kajal is a 'must have' in every girls makeup kit. But which one to choose? I'm here to help you out ladies. The following kajals are amazing and a must for every girl entering the makeup world:-
Lakme Eyeconic Kajal (Rs. 180/-) This waterproof black kajal intensifies the beauty of your eyes, giving them a flawlessly perfect shape and highlighting them to precision, in just one stroke. The ultra-smudge proof formula does not blur away with a water splash and has an impressively long lasting stay. It is dermatologically tested and is completely safe for your eyes. It gives your eyes a beautiful matte finish and is just the right thing to make your eyes look Eyeconic-ly gorgeous.
L'oreal Paris Kajal Magique (Rs.275/-)
Infused with the goodness of Cocoa Butter, Vitamin E and Olive Oil Esters, it glides on like butter. The mineral pigments in the product deliver a deep black color in every single stroke. The vivid bold strokes add instant definition to your eyes and the waterproof and smudge proof formula makes it last all day long. Tested by dermatologists and opthalologists, it is suitable for contact lens users as well.
Maybelline New York Colossal Kajal Super Black (Rs.300/-)
This Kajal is the queen of all in my opinion. With light absorbing pigments, the Colossal Kajal formula delivers a two times depper and bolder black colour for double intensity. It enhances the natural colour and shine of your eyes and is enriched with oil for super smooth application. It glides on Effortlessly and evenly and perfectly defines eyes. It is waterproof anf smudge proof that stays intense for about 16hrs.
8. Eyeliner
The next step in our makeup regime is going to be eyeliner. An eyeliner helps to give more definition and adds and extra oomph to your eyes. The following eyeliner products are the best and go a long way for every makeup artist:-
Maybelline Eye Studio Lasting Drama Gel Eyeliner-Black (Rs.525/-)
This is a life saver and definitely a great investment for those whowish to receive a sturdy and long lasting effect from the product. TheLasting Drama Gel Eyeliner gives you the precision of a liquid liner with the ease of a gel based formula. It adds an intense amount of drama to your eyes and glides on smoothly while applying. It is water resistant, non-sticky and oil-free that gives a vibrant and bold look to your eyes. whether you go thick, thin, smudged or smokey, your look will last from day to night.
Maybelline New York Hyper Matte Liquid Liner-Matte Black (Rs.325/-)
Yes, we've got another Maybelline product ladies. Stepping up the trend from the lips to the eyes, theHyper Matte Liquid Liner is the first ever matte finish liquid eye liner that gives you the most intense 24hr long lasting stay. It comes with a slim brush that has a well elongated applicator which makes it easier to apply and provides you with the perfect amount of product for precise lining. The liner is smudge proof, waterproof and also heat proof. It give a ten times bolder and hyper intense black lines that give more definiton to your eyes.
9. Mascara
Girls, this is one product that you can depend on forever. A mascara is an absolute game changer for your lashes. Just one swipe makes your eyes pop out and gives you a doll-eye look. These are some of the best mascaras I've ever come across:-
Maybelline Volum' Express Falsies Mascara-Waterproof (Rs.500/-)
Ladies, you need this in your makeup bag. This litte guy right here gives your lashes the ultimate length and volume. The Maybelline Volum' Express Falsies Mascara is absolutely true to its name and is a breakthrough bestseller that reveals lashes you never knew you had. The custom-domed tip uses precision bristles to lift, define, and even curl your tiniest lashes. With a glossy, jet-black, long-wearing formula, you'll flaunt luxurious and sily lashes that won't smudge, clump, or dry out.
Maybelline New York Lash Sensational Mascara-Waterproof (Rs.500/-)
This Mascara from Maybelline is worth every penny, my beauties. The Lash Sensational Mascara features an exclusive fanning brush with ten layers of bristles that give your eyes the ultimate full-fan effect in just a single stroke. It captures the lashes from the root to the tip and the sensational serum nourishes them. This mascara is a must have for beauty queens who fancy an intensely dramatic eye look. It is super black in colour and gives your lashes the most amazing length and volume. This is one products, in my opinion, that every girl should invest in.
Maybelline New York Falsies Push Up Drama Mascara (Rs.550/-)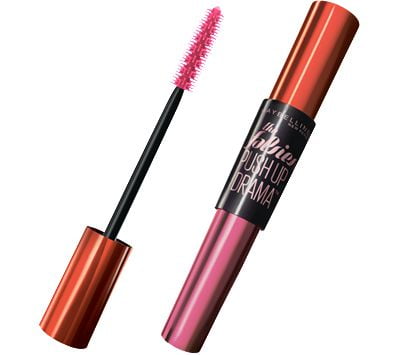 I am sorry girls I love Maybelline way too much. I mean, how can you not? It is absolutely awesome! And yet another Amazing product in store for you is the Maybelline New York Falsies Push Up Drama Mascara. This is super easy and quick makeup on the go. It is enriched with an instant plump formula that delivers dramatic volume with a 45 degree lift. The superior technology with cup shaped bristles and push up brush, this mascara scoops, coats and lifts lashes, bathing them in volume. The creamy plumpling formula glides on smoothly onto the lashes for an intense bold charge.
10. Lipstick
This is one product eeryone knows and is very picky about. There a endless brands and shades of lipsticks but here are a few that are a must for beginners:-
Maybelline Color Show Matte Lipstick (Rs325/-)
I swear this is the last Maybelline product. With 12 amazing shades Maybelline Color Show Matte Lipstick is enriched with an ultr-care hydrating formula and a lip color that doesn't fade in extreme humidity and heat. The shades stay true without drying up your lips. At a very reasonable price, this lipstick is a great bargain for people who love vivid color and a long lasting formula.
Lakme Absolute Sculpt Matte Lipstick (Rs.750/-)
This, my lovelies, is abso-freaking-lutely the most amazing lipstick I've ever come across! This is and has always been my go-to lipstick and I can swear by it. The Lakme Absolute SculptMatte Lipstick personifies the architectural look. This product achieves glorious, sculpted lips with just one stroke. Available in 20 vibrant shades this lipstick provides nothing less than an expert finish. This range of long lasting shades requires no frequent touch-ups and nourishes you lips while retaining their moisture by keeping them hydrated all day long.
Colorbar Kiss Proof Lip Stain (Rs.900/-)
Ladies, this one's the real deal. The Colorbar Kiss Proof Lip Stain does not joke around when it claims to not come off even if youre entered in a heated make-out session with your better halves! But real talk though, this revolutionary liquide lip stain has a unique no-transfer formula that glides on perfectly on your lips and delivers an impressively long-lasting, velvety color that wll not fade and stay all day long. With a convenient and weightless application, it provides a smooth matte finish, enriched with Vitamin E providing antioxidant properties. Also, the colour does not bleed on the lips, which is always a bonus!
So my beauties, there you go! A complete go-to makeup kit for beginners that you can count on. Its got Multiple options for you to choose and customise from. With great values and benefits, this is a great bargain for people entering the makeup world!
Stay Beautiful!!!