Get Framed
Published By Khadeeja Karim
March 16th, 2017
#eyewear #glasses #frames #chic #specs #spectacles #jaguar #pulitzer #owp #paradox #fysh #nomad
A sneak peak at the hottest trends in eyewear for 2017.
Think back to the days of your youth when showing up to school in glasses was quite possibly the scariest thing, due to concerns over how the other kids would treat you. Speaking from experience, this feeling was not a great one. Most people these days need glasses to function better. Hello short-sighted me and half the people I know. But eyewear has come a long way from being just that – glasses we use to see better. They're fashion, they're polished, they're cool, they're funky, and they come in so many designs to match each and everyone's personal style, it's fantastic. Shopping for a pair of great spectacles these days is a lot of fun.
With everything from round wire shapes to vintage cat-eye styles, these glasses are quite possibly the most stylish we have ever seen. Your eyeglasses go further than just providing you with perfect vision. They can equally serve as a functional, fashion statement to compliment your wardrobe and fulfill the needs of your everyday, active lifestyle.
1. Jaguar Specs
You've got the green light from Jaguar Eyewear to grab their new optical styles, and we suggest you take advantage of it! Inspired by the refined design and craftsmanship of the brand's iconic automobiles, these masculine glasses will out-perform your highest expectations. Retro profiles are made new with dynamic colorations of icy blues, burnt oranges, rustic browns and earthy olives. Clever details like layered metal plaques and temple effects reminiscent of the cars' dashboard paneling are purposeful plays on an iconic brand. Antique brushed, matte and shiny finishes – not to mention wooden effects – top off of these suave glasses. Check them out, below.
2. Red Rose Frames
Sophisticated guys and girls, meet your new favorite frames from Red Rose. Marrying iconic round and feminine modified-oval silhouettes with sleek designs, these specs are perfect for modern trendsetters. A luxurious range of neutrals and stunning hues – along with time-honored details like keyhole bridges, cutout effects and brand logo accents – continue the old-meets-new vibe of these cotemporary specs. Devoid of over-the-top features, these simple yet elegant glasses offer subtle satin finishes and are just what your eyewear wardrobe needs. Take a peek at the fresh take on retro frames, below.
3. Big Square Frames
If you want to keep it fresh and edgy, you can always go for some big square frames. It's very convenient to have a pair of glasses like these to throw on when you're presenting your quarter budget, meeting your girl/boyfriend's parents, or just chilling at home – because no matter what, glasses like these will just make you look smarter, more mature and kind of like you know what you are doing.
4. Metal Frames
Metal glasses are back! Get your Harry Potter look on with some round specs with metal frames. Metal has made a big comeback within the last year and we can only expect this new trend to grow.
5. Nomad Specs
The Nomad collection from Morel is wandering to its next destination, and we are sure it will be delightful. Inspired by the fiery colors of India and the "pink city" of Jaipur, the aptly named specs incorporate clean designs and bright hues. Gradual shading of eye-catching fuchsias, reds, blues and purples, along with grounding colors of grays and browns, draw from the nature of Indian fabrics for an authentic feel. Meanwhile structured modified square profiles are brought to life with translucent effects and subtle temple detailing for an effortlessly casual vibe. Take a peek, below.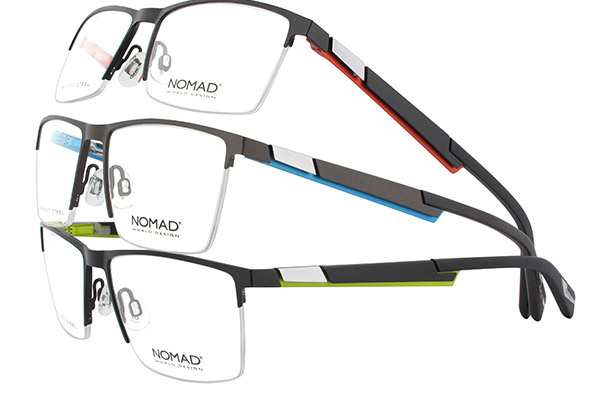 6. Lilly Pulitzer Glasses
Cute girlies will love the new specs from Lilly Pulitzer! Flaunting the brand's signature prints, these glasses incorporate fun details with mature silhouettes. Cat-eye and square profiles are embellished with flower and elephant appliques for a whisper of whimsy. Vibrant colors like hot pinks, aqua blues, peony purples and grassy greens are elevated with gradient and color blocking effects. Finished with delightful brand logo detailing, these adorable frames are the perfect everyday glasses for any girl. Check them out, below.
7. Paradox Frames
Contemporary girls, gather 'round! Paradox Eyewear has a new frame that is sure to impress. Modern sophisticated design comes together with a familiar modified cat-eye profile for an updated classic style. Vibrant colorations of warm autumnal hues like burnt oranges, steel grays and nude beiges are complemented by subtle textural effects. All-over pattern keeps these specs fresh, making them the perfect everyday frame. Check out the new style, below.
8. Juicy Couture Frames
For the girls out there who are decidedly fashionable, we have got the sunnies and specs for you! Check out these glam frames from Juicy Couture and you will not be disappointed. Sophisticated square, aviator and Clubmaster-inspired profiles come alive with dazzling gold chain-detailing. High-impact embellishments like playful metal crown details and intricate golden plaques make these shades and glasses distinctly modern. Meanwhile, flirty hues like rose gold, ivories and modified tortoise patterns adds a fresh and light vibe – perfect to carry these frames from summer to autumn. Check them out, below.
9. FYSH UK Frames
Retro inspiration hot off the runway meets exciting colors for naturally chic frames from FYSH UK. Modern girls will adore these sassy cat-eye profiles and rounded square silhouettes. Paisley prints, scalloped cut-outs and all-over confetti-like multicolored patterns are playful touches, while embossed detailing and gradient effects keep the frames sophisticated. Unexpected fun hues of muted greens, pops of oranges, burnt reds, ocean teals, sky blues, and lilac purples come together to transform these frames into extraordinary must-haves for autumn. Expertly crafted slim and lightweight designs equal extra comfort for everyday wear, making these a no-brainer addition to your eyewear wardrobe. Check out the coveted specs, below.
10. OWP's Carefree Frames
Youthful and light-hearted design meet up with sophistication for specs every girl with crave! Pop on a pair of the new frames from OWP and let their urban-chic character wash over you, instantly elevating any outfit. Round silhouettes with feminine curved lines are enhanced by understated keyhole bridges and traditional engravings on the temples. With steel-toned blue and warm orange hues in glossy or bushed finishes, you cannot go wrong with these undeniably fashionable glasses. Check them out, below.
Glasses these days have become a staple fashion accessory and trend-setters all over the world are now wearing glasses daily – whether they really need to see 20-20 or not. SO JUST GO GET FRAMED!